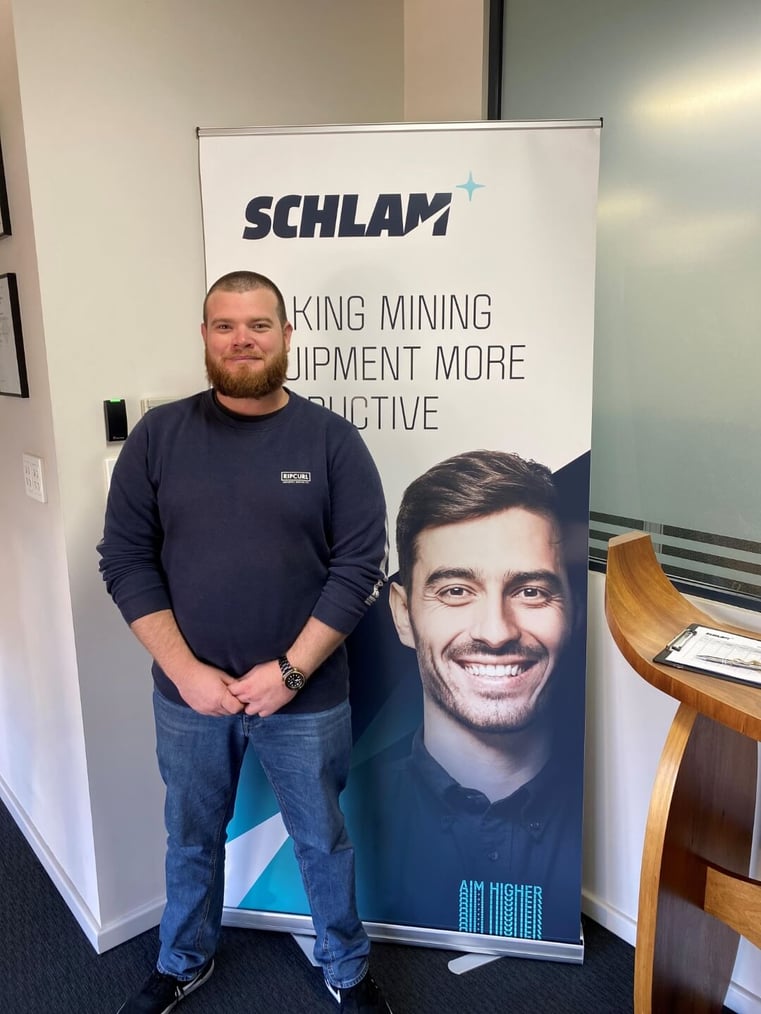 The phrase "to follow in their father's footsteps" often gets thrown around when it's time for young men and women to choose a career. While this term may seem like one of those catchphrases that we all use, extensive research has been conducted on the topic.
The research duo of Wayne Baker, a professor at the University of Michigan's Ross School of Business, and Kathryn Dekas, a people analytics manager at Google, found that your parents are the single most significant factor in determining your work orientation.
And the closer your bond, the more likely you are to follow their lead - whether or not you work in the same industry.
For Schlam's Mechanical Team Leader Scott Lewis, this finding could not resonate any deeper.
The Heavy Duty fitter completed his apprenticeship in 2002 when working for his father. He says that his work ethic was instilled in him at this young age, sometimes working up to 16 hours per day, seven days a week.
"I got my first taste for the industry when working for my old man in Queensland. We worked in quarries and places like that, meaning that I learnt to work on the same sort of machines that I work on today in the mining industry, but on a much smaller scale.
"It runs in the family too. My dad, grandfather, uncles, and even my cousins have all been in the industry at some point. It's all I've ever known," says Scott.
The jovial mechanic who speaks with a slight Welsh twang joined the Schlam People Solutions mechanical team to challenge himself.
"I was working for another company that had become too big. The work became stale and boring. So, when the opportunity came along to challenge myself and start something new at Schlam, I jumped at it.
"The icing on the cake was that Schlam offered a permanent job, which means a lot as I have children and family over in Queensland," said Scott.
His deep connection to the mining industry has now extended to working alongside his partner Rebekah who recently joined the Schlam team as a fitter as well.
Scott has some pretty simple advice for people looking to join the industry: have a goal and stick to it.
"My advice to anyone would be to have a goal and don't deviate from it.
"I've seen people who get into mining because they wanted to save for a house. But you see them 10 or 15 years later, and they're still saving for that house because they've splashed and bought a fancy car or spent their money on too many holidays along the way.
"Your whole family has to be on board too, not just with you working FIFO, but also being on board with working towards something such as the house or private school for your children," said Scott.
The team leader has seen people come and go in his time and says that one of the biggest shocks that people get when coming from a role in the city to working on a mine is the pace of work, saying that mining is more structured due to the extra safety precautions.
"You have tight deadlines when working on trucks in the city because those trucks need to be back on the road as soon as possible.
"We allow the extra time to do things in the safest way possible. That's not to say that we dawdle; it means that we're precise and follow best practices.
"This can be a bit of culture shock to people joining the industry, but we must take the extra time to be safe. I sometimes have to tell people to take a breath and calm down when they first start with me," he said with a chuckle.